The Citadel is a pavilion that was originally created in 810. In 1176, the celebrated Muslim leader Salah Al Din fortified the area to protect it from attacks by the Crusaders. It is both a fortress and a miniature royal city. One of the most
unique features of the Citadel is its aqueduct, built in the 12th century. It is a magnificent piece of engineering that carried water more than 3 miles from the Nile to the Citadel for everyday use, and it was vital in times of siege. The Citadel also houses the Alabaster Mosque, which can be seen from any part of Cairo, and the famous Khan El Khalili bazaar, while offering an unparalleled panoramic view of Cairo from the Moqattam Hills.
The Citadel was fortified by the Ayyubid ruler Salah al-Din (Saladin) between 1176 and 1183 CE, to protect it from the Crusaders. Only a few years after defeating the Fatimid Caliphate, Saladin set out to build a wall that would surround both Cairo and Fustat. Saladin is recorded as saying, "With a wall I will make the two [cities of Cairo and Fustat] into a unique whole, so that one army may defend them both; and I believe it is good to encircle them with a single wall from the bank of the Nile to the bank of the Nile." The Citadel would be the centerpiece of the wall. Built on a promontory beneath the Muqattam Hills, a setting that made it difficult to attack, the efficacy of the Citadel's location is further demonstrated by the fact that it remained the heart of Egyptian government until the 19th century. The citadel stopped being the seat of government when Egypt's ruler, Khedive Ismail, moved to his newly built Abdin Palace in the Ismailiya neighborhood in the 1860s.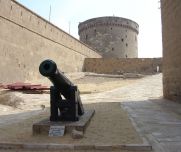 While the Citadel was completed in 1183-1184, the wall Saladin had envisioned was still under construction in 1238, long after his death.
To supply water to the Citadel, Saladin built the 280 feet (85 m) deep Well of Joseph, which can still be seen today. This well is also known as the Well of the Spiral because its entrance consisted of 300 stairs that wound around the inside of the well. Once water was raised from the well to the surface, it traveled to the Citadel on a series of aqueducts. During the reign of al-Nasir Muhammad, the Well of Joseph failed to produce enough water for the numerous animals and humans then living in the Citadel. To increase the volume of water, Nasir built a well system that consisted of a number of water wheels on the Nile, the water from which was then transported to the wall and subsequently to the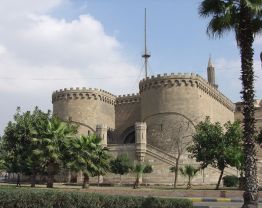 Citadel, via the aqueducts Saladin had constructed.
The improvements to the Citadel's water supply were not Nasir's only additions to the Citadel, which was subject to a number of different additions during the Mamluk period. Nasir's most notable contribution was the Mosque of Nasir. In 1318 Nasir rebuilt the Ayyubid structure, turning it into a mosque in his name. The structure underwent further additions in 1335. Other contributions to the Citadel during Nasir's reign include the structure's southern enclosure (the northern enclosure was completed by Saladin) and the residential area, which included space for the harem and the courtyard. Prior to Nasir's work on the Citadel, the Baybars constructed the Hall of Justice and the "House of Gold